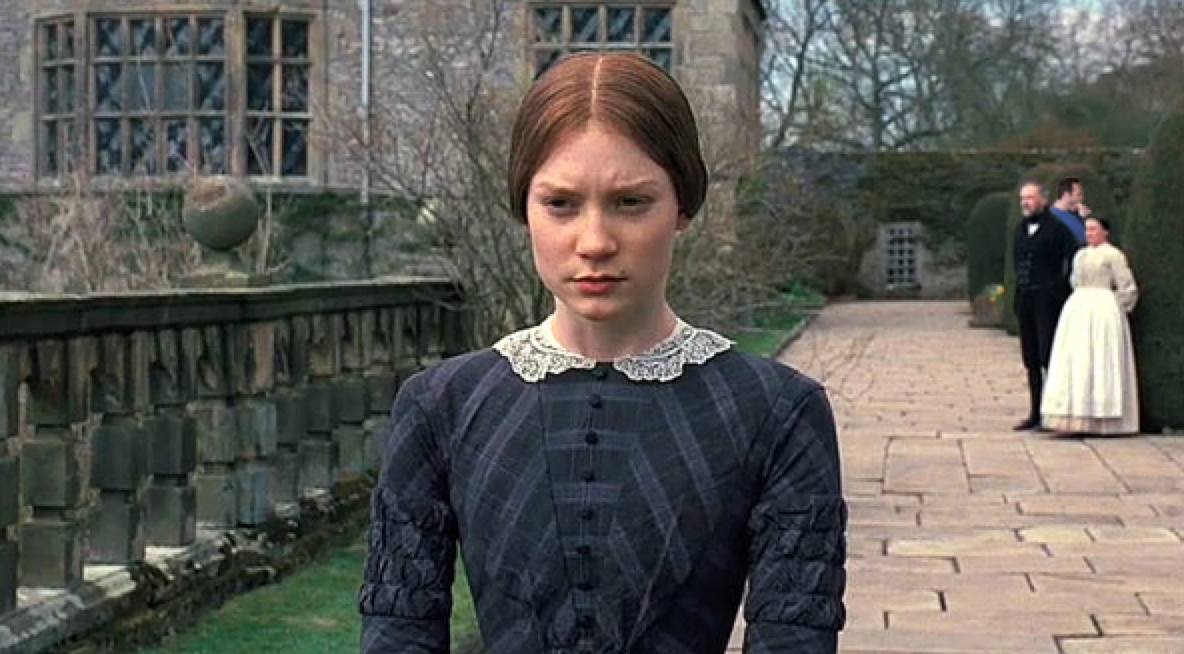 Jane Eyre is reluctantly raised by her aunt Sarah Reed after she loses both her parents in early childhood. Sarah sends her off to Lowood, a charitable girl's boarding school at the age of ten because she cannot tolerate Jane's independent nature. Encountering many difficulties and hardships in the name of a Christian upbringing, Jane rises to the top of her class and starts teaching there. She is also encouraged and mentored a great deal by her school superintendent Miss Temple.
After Miss Temple gets married, Jane leaves the school to take up a governess position at Thornfield Hall. She teaches Adele, a young French girl who is being brought up by Edward Rochester, a country gentleman. Edward confesses that Adele is the daughter of his past French mistress but that her father is unknown. In this new environment, Jane feels happy because she and Edward fall in love and decide to get married.
But during the marriage ceremony, Edward is accused of bigamy to which he admits and shows everyone his insane first wife. He confesses to Jane that he did not want to lose her, which is why he did not say anything of his previous marriage. But Jane is deeply hurt and refuses to be associated with Edward further, leaving the manor immediately.
The money she has is enough to take her to a crossroads over a hundred miles away. From here, Jane reaches a village tired, weary, and trying to get some type of employment. She fails to do so and is ultimately forced to beg for food. Exposed to the cold English winter, she gets some food but not enough to survive on. She eventually lands on the doorstep of a small farm house where she requests food and shelter. Though she is initially refused, she is then taken in after she almost faints.
Her benefactor is the parson St. John Eyre Rivers, an ardent Christian who spares no effort to look after the poor and needy. He is handsome and has two sisters Mary and Diana. St. John asks Jane for information about her family and previous employment but Jane refuses to give any information and only wants his help to obtain a job. She has even changed her last name from Eyre to Elliot to avoid discovery.
St. John gets Jane a job as a teacher in a parish school whose patron is Rosamond Oliver. Rosamond is a very pretty girl who is infatuated with St. John who is likewise interested in her. However, St. John is determined to become a missionary in India because he feels that any capable person should spread the word of Christ, even if it means abandoning Rosamond.
Jane gets along well with Diana and Mary Rivers and later they discover that they are actually cousins. Their mother was the sister of Jane's father but St. John knew this earlier after he noticed Jane's real last name was signed on the bottom of one of her drawings. St. John informs Jane that her father's late elder brother has left her a small fortune that she immediately decides to share equally with her cousins.
After this, St. John takes upon himself the task of giving Jane a meaningful life and convinces her to learn Hindustani so that she can join him as a missionary in India. Jane agrees to this but is taken aback when St. John wants her to marry him before going to India. Otherwise, he feels that she may go astray there and forget about being a missionary.
Jane is steadfast and does not marry him because she does not love him and knows that he loves and will always love Rosamond. Yet, St. John does not give up and keeps pressing her. Under great mental pressure, Jane reaches out to God and feels that she hears the voice of Edward Rochester calling out for her.
Jane goes to meet Edward Rochester at Thornfield Hall only to find that there has been a major fire that his mad wife started and killed herself in. Even after everything, Edward tries to save her and in the process maims himself. Jane locates Edward and sees that he still has an intense love for her and they both get married thanking God for his divine intervention in bringing them together agai