The Georgia state university was established in 1913 in Atlanta, and in 2013 it is celebrating its centennial. It has over 32,000 students engaged in more than 55 degree programs at undergraduate and graduate levels in over 250 fields.
The university has 8 prestigious schools and colleges: Andrew Young School of Policy Studies, College of Arts and Sciences, College of Law, College of Education, School of Public Health, J. Mack Robinson College of Business, Byrdine F. Lewis School of Nursing and Health Professions and Honors College.
Location
The Georgia state university is located in the historic financial center of Atlanta. Located in downtown Atlanta, it can be reached via taxi, MARTA rail transportation or rental transportation. A look at the Georgia state university map tells that it is ideally located for students and visitors.
Acceptance rate
The GSU has a relatively stricter acceptance rate of 51%, which is a sign of the quality that it pursues.
Infrastructure
The Georgia state university is located in an urban setting, with the campus spread across 48 acres of area.
There are two libraries in the university – the Georgia state university library and the College of Law Library. The University Library has a Special Collections and Archives section that collects and preserves rare and special historical collections in different subjects.
Rating: B+
Housing

The Georgia state university offers world-class housing facilities to students in the form of a number of on-campus buildings. The different student housing areas include the Patton Hall, University Commons, University Lofts, The Lofts, Greek Housing, Piedmont Hall and the Piedmont North.
Rating: A Student Life / Student Community
Students have a larger community life at Georgia state university Atlanta, with over 250 student organizations on the campus. This includes a major Greek community comprising of sororities and fraternities. In addition, the Georgia State Panthers compete in the NCAA Division I Colonial Athletic Association Conference.
Rating: A-
Academic
The Georgia state university has a student to faculty ratio of 21 to 1. Mover 16% of the classes have lesser than 20 students. The average retention rate is relatively higher at 83.2%.
Best Courses: Business, Marketing, Management, Psychology, Social Sciences, Visual and Performing Arts, and Education.
Rating: A
Expenses
Most notably, more than 71% of the full-time undergraduates at Georgia state university get need-based financial support. However, the average scholarship is around $4,480. The university is a little expensive for non-residents.
Tuition and Fees (2012-13): Resident Students – $9,660
Non-Resident Students: $27,87
Room and Board: $11,540
Rating: B
Sources of funding
Students can avail a wide range of scholarships at Georgia state university. The scholarships at GSU are classified into different sections of students: Entering Freshmen, Enrolled Students, Transfer Students, Graduates, Honors, and Out of State Students. The HOPE Scholarship is offered to undergraduates seeking degree. The other scholarships are the Zell Miller Scholarship and Goizueta Foundation Scholarship Opportunities.
Student feedback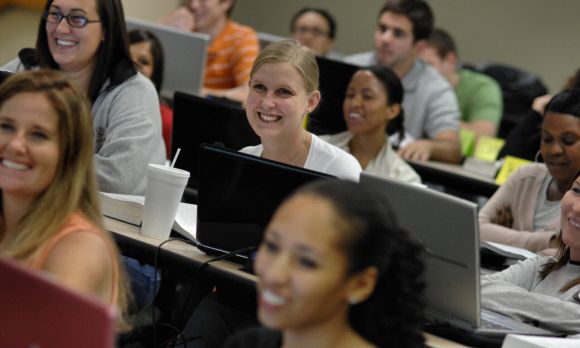 "With over 250 study fields, the georgia state university offers a world of opportunities for students to pursue their academic goals in a spectacular and diverse setting. In addition to offering the perfect academic and community setting, the georgia state university employment opportunities enable students to fund their education."
Interesting Facts about Georgia State University
The Georgia state university has thousands of international students from hundreds of countries. They help in creating an environment of diversity.
The Georgia state university Alpharetta center was established in 2000 in North Fulton as the first satellite center of the university under the J. Mack Robinson College of Business.
The Georgia state university school of nursing is also a major wing that prepares students for the modern health care challenges.
Contact Address
P.O. Box – 3965
Atlanta, Georgia.
Read Other Colleges Reviews