West Chester University of Pennsylvania is a public educational institution, which is one of the 14 state universities that are part of the Pennsylvania State System of Higher Education. It uses a semester-based academic calendar. West Chester University has received high recognition as a center for formal poetry. The traditional annual conference on form and narrative in poetry started in 1995.
Location
The University's campus of 407 acres is located in West Chester, Pennsylvania, within 25 miles distance west of Philadelphia. This is a large town that provides many opportunities for the students.
Acceptance rate
West Chester University is a selective institution, with an acceptance rate of 46.5%.
Infrastructure
The campus of West Chester University is an impressive mixture of contemporary and 19th century collegiate Gothic architectural styles. The magnificent old trees and unique buildings make this campus one of the most remarkable landmarks of Southeastern Pennsylvania.
Rating: B+
Housing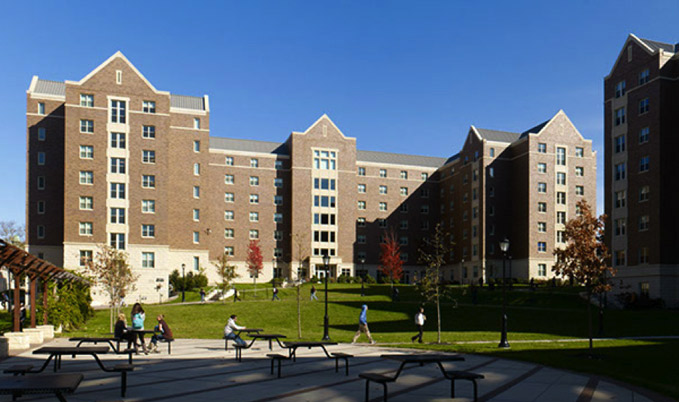 The West Chester University housing, also referred to as "traditional housing" is enabled in College Arms Apartments, South Campus Apartments, Wayne Hall, Tyson hall, Schmidt Hall, McCarthy Hall, Killinger Hall and Goshen Hall. The university also provides options for affiliated housing at The Village at West Chester University, University Hall, Brandywine hall and Allegheny Hall.
Living on campus is an integral part of the students' educational experience, and provides them with opportunities for both social and personal growth.
Rating: B-
Student Life / Student Community
The student life at West Chester University is marked by the Greek system. With 15 sororities and 11 fraternities, including 10 culturally based Greek letter organizations, the students can become a part of campus tradition that will leave them with great memories and friendships for a lifetime.
The West Chester University jobs are also a big part of the student life, with many students using the opportunity to build skills and gain experience for future employment.
Rating: A
Academic
West Chester University provides 67 majors. The college accepts advanced placement credits, credits for life experience and dual credits. Sustainability is being integrated into a number of courses offered at this university. The students are exposed to a high-quality educational experience that encourages leadership skills through various extracurricular and academic programs.
Rating: B
Best courses: Liberal Arts and Sciences, General Studies and Humanities; English Language and Literature/Letters; Business, Management, Marketing, and Related Supported Services; Health Professions and Related Programs; and Education.
Expenses
The average West Chester University tuition prices are differing for out-of-state and in-state students. The West Chester University tuition is estimated per credit, where one credit for an undergraduate out-of-state students costs $790.48; and $368.48 for undergraduate in-state students.
Rating: C+
Tuition cost: $18,370 for out-of-state students, $8,728 for in-state students (2012-2013)
Sources of funding
The Financial Aid Office offers many opportunities for the students to get the education they dreamed of even if they are not able to pay for it. Over 60% of the full-time undergraduate students receive need-based financial aid. The West Chester University jobs are another option for the students to make money for living while being part of the campus community.
Student feedback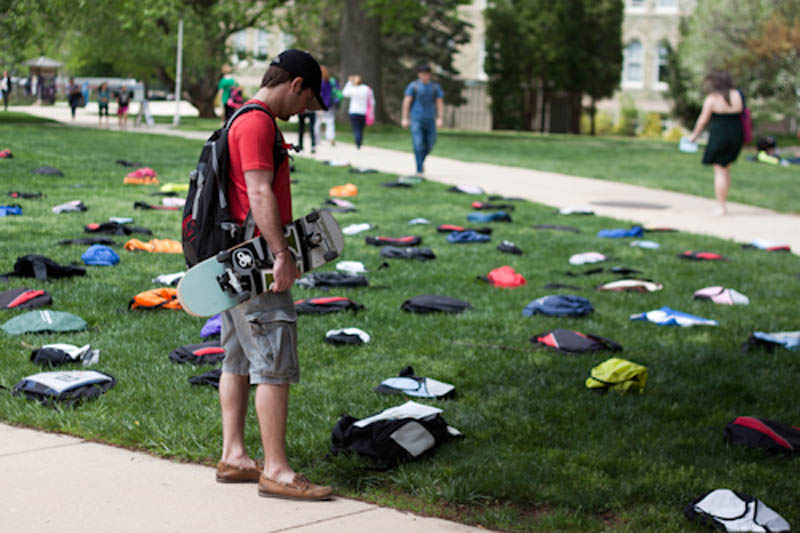 "I came to West Chester because it was my back-up school. But I have to say I love it so much more than I thought I would. I have made incredible friends here. The students and faculty really make the school. The academics are not too challenging but I have learned useful information for my major. There are so many different types of people that you are bound to make friends. The new dorms are incredible!" – a freshman at West Chester University.
Interesting Facts about West Chester University
The West Chester University athletics program is mostly dominated by its men's and women's swimming teams.
The West Chester University Golden Rams Marching Band is one of the highlights of this university. It has over 300 members and performs before the games, halftime and after the games at all home events and selected away football games.
Contact Address
West Chester University of Pennsylvania
University Avenue and High Street
West Chester, PA 19383
Read Other Colleges Reviews