GrammarBase.com is a very useful site for students who need to clean up their grammar. It is a completely free and thorough service for detecting mistakes with grammar, punctuation, plagiarism, style, and contextual spelling. Their results appear instantly, you don't have to download extra software, and you can use their services completely online. You can also install their Google Chrome extension, which will grammar check every page you visit in your browser. Likely, frequent online contributors, bloggers, or ESL students might find this extension the most useful.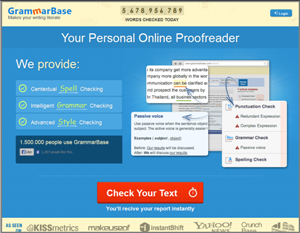 To start using their services, you simply insert you text into their text box and click "start checking." In a matter of seconds or minutes, depending on text size, your text will reappear with all problematic areas highlighted with their suggested corrections. If you believe that you need additional help, they also offer grammar tutoring for $9 an hour.
GrammarBase is a completely free and convenient service for anyone requiring extra grammar help. To contact customer support, you must click on the "feedback" tab. From there, you need to leave your email and question or feedback.
Related Articles